Malwa 980 Harvester
Operators from bigger machines finally have a machine they can feel at home in straight away, and where they can experience versatility and care of ground at a whole new level. A brand new compact thinning harvester on eight wheels with quality and expertise in every component.
Width: 218 cm
Height: 320 cm
Length: 620 cm
Ground clearance: 520 mm
Mechanical transmission
Mechanical – or, rather, hydro-mechanical – transmission translates into smooth and responsive driving on all eight wheels. We are the only company to provide this feature in this size machines.
Steering angle of 45°
Centre section with its hydraulic cylinders provides 45° steering, which translates into a turning radius of just 5.8 metres. Which is extremely good.
Work hydraulics
Three independent pumps that can run at maximum output at the same time without restricting the capacity of each other. One for the transmission, one for the crane and one for the harvester head.
All pumps from Bosch Rexroth.
Harvester head
The Log Max 3000T is well-known and recognised as one of the best, most efficient and most reliable harvester heads on the market. A powerful, dual swing damper for exact positioning of the head. Weighs 615 kg, with a maximum cutting diameter of 52 cm. Colour marking and stump treatment is available as an option
Excellent work lighting
The 980 is fitted with 24 LED work lights and road lights front and rear.
Control system
We have chosen Parker IQAN, the leading communication system for electronics in mobile work machines. Our CAN bus solution features digital fuses, which provide major benefits.
Large diesel tank
Holds 240 litres. Provides an operating period of at least 24 hours.
Nice and warm when you arrive
An app-controlled diesel heater means that you can remotely activate heating of the engine, cab and hydraulic systems.
Dark? Turn on the lights remotely
You can turn on the front light – or all the lights – from a distance, making it easy to find your machine without getting lost.
Operations reports
Just like for the biggest machines, in every respect. For example, operation follow-up, map program, value bucking, reports, etc. Information about the harvester head and crane on a separate display. All fluid levels monitored.
980 directly to your smartphone
You can link your 980 directly to your smartphone and monitor the different values, levels, and pressures. All information can also be transferred via internet to your computer(s), to most service suppliers and to Malwa's service technicians for analysis and diagnosis.
Fleet Management
Fleet Management is a smart, valuable supplement, especially for contractors who operate multiple machines in their business. It is a web-based system that provides real time information about where each and every machine is located, generates production data and details for every machine and operator in your fleet. All information can be accessed by smartphone, tablet or computer.
Service and daily supervision
Well-thought-out, easily accessible service points.
Daily supervision and checks of oil and fluid levels can be performed via the same hatch.
Central lubrication is an option.
Safety glass
The windows in the cab are made of a new type of glass with excellent optical properties. Tinted glass to reduce the effect of bright sunlight. The front and side windows are made of 2 x 8 mm laminated safety glass, which meets all requirements for chain shot protection in accordance with ISO 21876:2020.
Other
High-class audio system. Easy to enter, with flat floor and no threshold – easy to clean.
Protected storage space for harvester bars and chains, for example, as well as additional storage under the cab floor.
DIMENSIONS AND WEIGHT
| | | |
| --- | --- | --- |
| Weight: | | From 9 800 kg. |
| Length: | | 6.4 m. |
| Width: | | 2,2 m. |
| Height: | | 3 m. |
| Ground clearance: | | 520 mm. |
CHASSIS
Folded frame in laser cut steel.
Sturdy bogie with chain drive, slewing bearings and wheel reductions.
Articulated joint with slewing bearing.
Hydraulic frame stabilization, automatically activated.
Towing points, front and rear.
Articulated steering:
Hydraulic with double-acting cylinders.
Steering angle:
± 45 degrees.
ENGINE
| | | |
| --- | --- | --- |
| Type: | | Caterpillar C4.4, EU Stage V, U.S EPA Tier 4 Final. |
| Cylinder volume: | | 4,4 l. |
| Output: | | 130 kW (173 hk) at 2 000 rpm. |
| Torque: | | 750 Nm at 1 400 rpm. |
| Fuel Tank: | | 240 l. |
WORK HYDRAULICS
| | | |
| --- | --- | --- |
| Flow: | | 220+145 l/min at 1 700 rpm. |
| Work pressure: | | 250 bar. |
| Other: | | Variable load sensing axial piston pump with torque limiter from Bosch Rexroth. |
| | | Crane valve with individual signal pressure limitation. |
| | | Separate filters for hydrostat and work hydraulics. |
TRANSMISSION
| | | |
| --- | --- | --- |
| Type: | | Hydro-mechanical transmission from Bosch Rexroth separated from work hydraulics. |
| Speed: | | 0–18 km/h. Four gear steps. |
| Other: | | 8WD. Differential lock, front and rear. Bogie lift, front and rear. |
ELECTRICAL SYSTEM
Voltage:
24 V.
Battery:
95 Ah x 2.
Alternator:
120 A.
IQAN System (CAN-bus based) for control of all functions in the machine supported by a user-friendly touch screen. The system allows for setting of crane functions, transmission control, diesel engine and other machine functions. System offers follow-up, troubleshooting, and alarms. Software updates are possible.
CAB
| | | |
| --- | --- | --- |
| Seat: | | Ergonomically designed seat with pneumatic suspension. Individual adjustment of the seat cushion, back and lumbar support are provided. |
| Hand rests: | | Adjustable for joysticks. |
| Heating/Ventilation: | | Fully-automatic heating and cooling unit (ECC). |
| Safety: | | ISO certified (OPS, ROPS, FOPS). Chain shot proof windshield ISO21876:2020 |
| More: | | Windscreen wipers front and sides. |
| | | Spacious cabin supported on rubber buffers. |
| | | Heat and sound insulated. |
| | | Safe entrance. |
BRAKES
Fully hydraulic multi disc brakes in oil bath.
Transport and work brake.
Negative park brake and catastrophe brake.
Automatic park brake.
CRANE
| | | |
| --- | --- | --- |
| Type: | | Kesla 875 parallel harvester crane. |
| Reach: | | 7,6 m. |
| Gross lifting torque: | | 72 kNm. |
| Gross slewing torque: | | 22 kNm. |
| Crane tilt: | | ± 20 degrees. |
HARVESTER HEAD
| | | |
| --- | --- | --- |
| Standard: | | Log Max 3000T, a light head specifically designed for thinning. |
| Max cut capacity: | | 520 mm. |
| Weight: | | 615 kg. |
| Feed force: | | 16,2 kN |
| Options: | | Stump treatment (dose direct pump, 60 l water tank). Colour marking. |
| | | Full system diagnosis. |
| | | Value bucking. |
| | | GPS, maps. |
| | | LogMax 2000T. |
We reserve the right to change specification without further notice. June 2022.
Double bogie
We are continuing the tradition of using our own-developed bogie, which is unique in machines of this size. Probably the best and strongest on the market. As an option, double bogie lift front and rear for improved versatility. Can be locked during processing and crane operation if the terrain requires it. Powerful centre lock with hydraulic cylinders.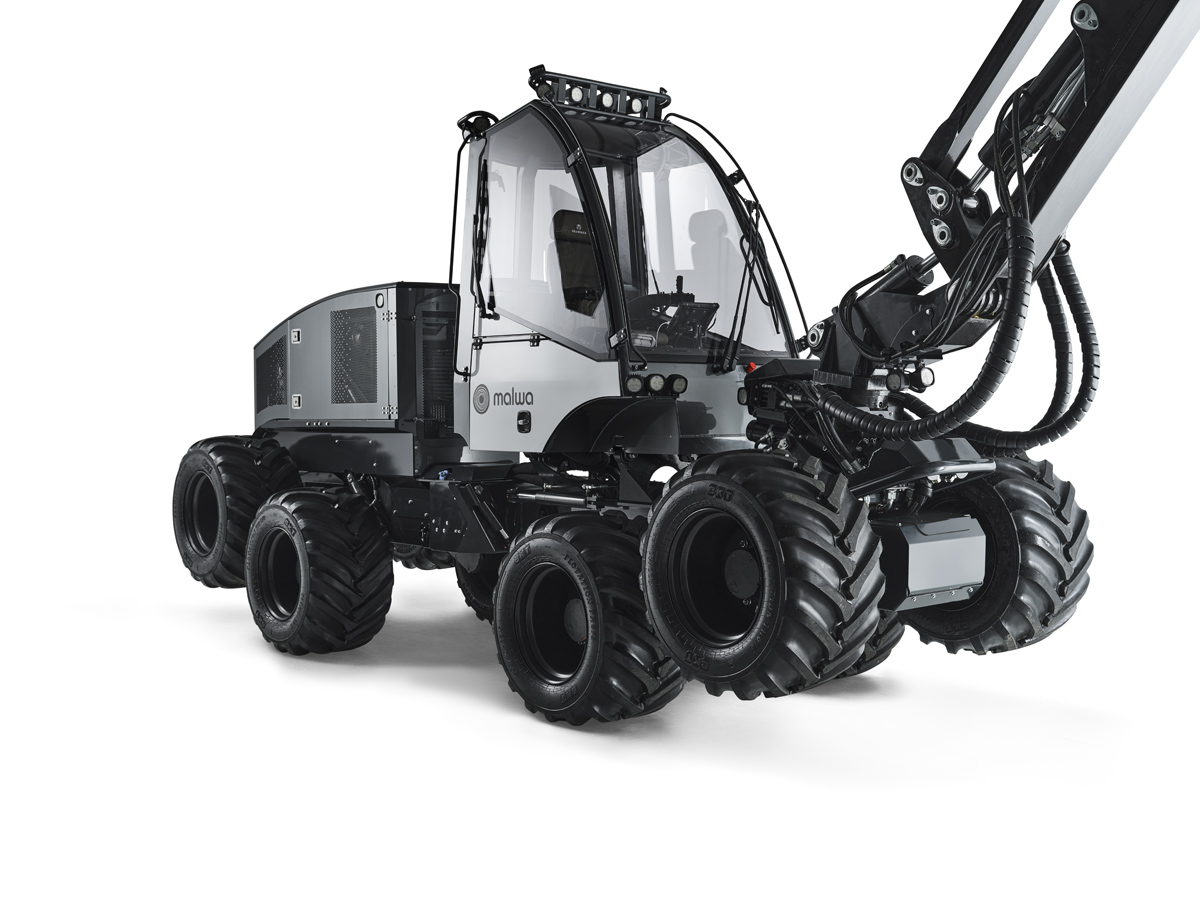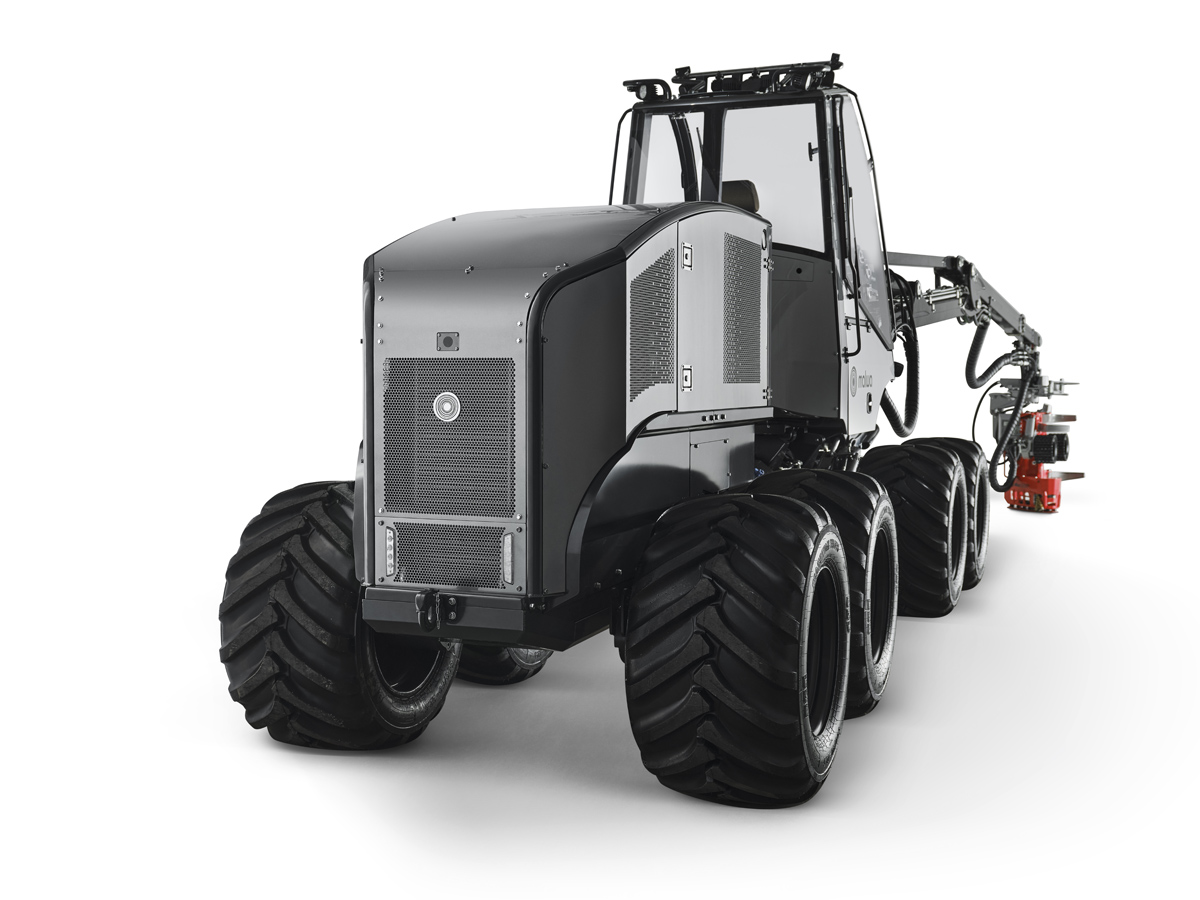 Engine
The 980 is fitted with one of the most tested and reliable engines in the world: the CAT C4.4, which more than meets the requirements of EU Step V. We have chosen 130 kW output, or 177 horsepower, which means you can be sure of low diesel consumption combined with the most powerful engine in the segment, with double turbo for fast response. A torque curve of 750 Nm at 1400 revolutions per minute produces full power even at low revolutions. The engine hood features fully openable covers on both sides. Storage space in the engine room for tools. Clean and dry.
Crane
The Kesla 875H is the most powerful crane in the segment and has been designed especially for the Malwa 980. Improved motion geometry. The crane has a reach of 7.6 metres and can handle a Log Max 3000T harvesting head – both lifting and slewing at full extension.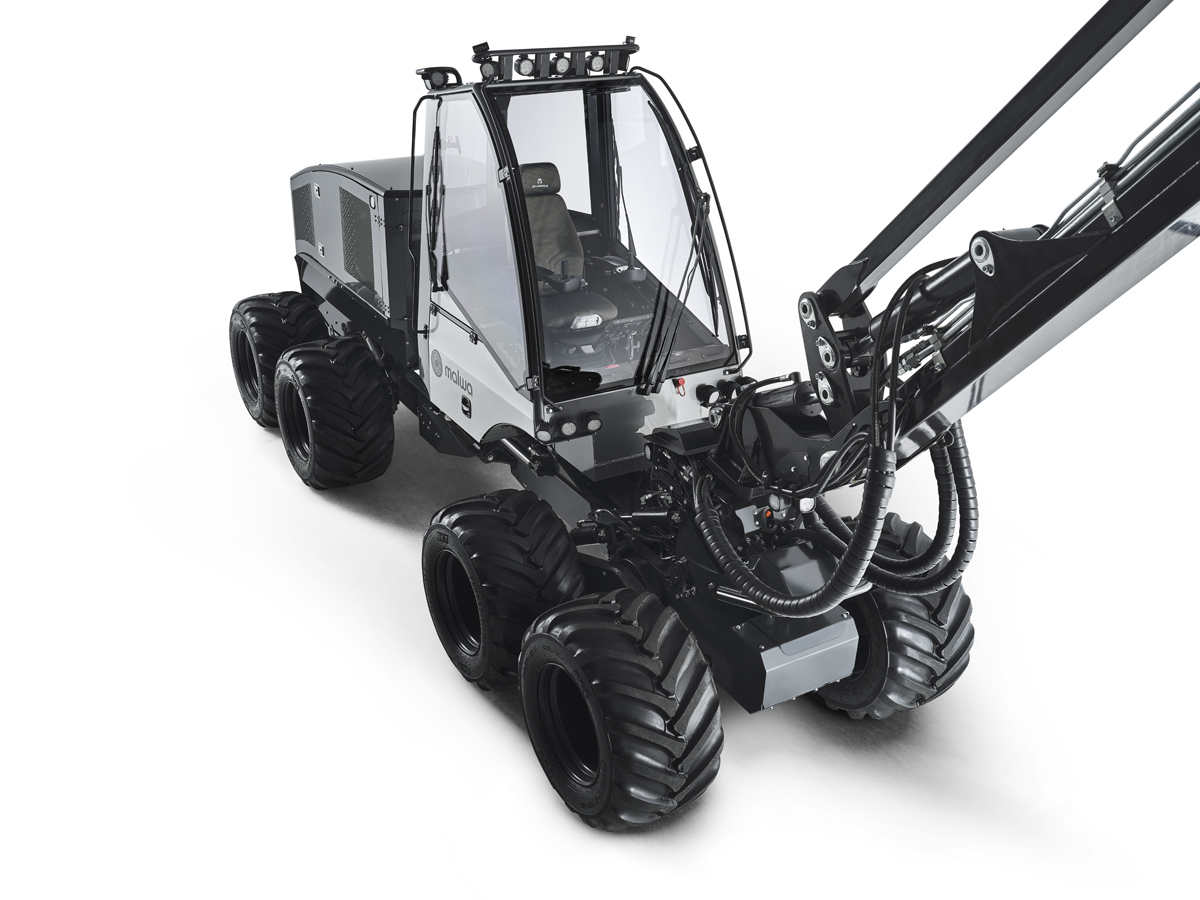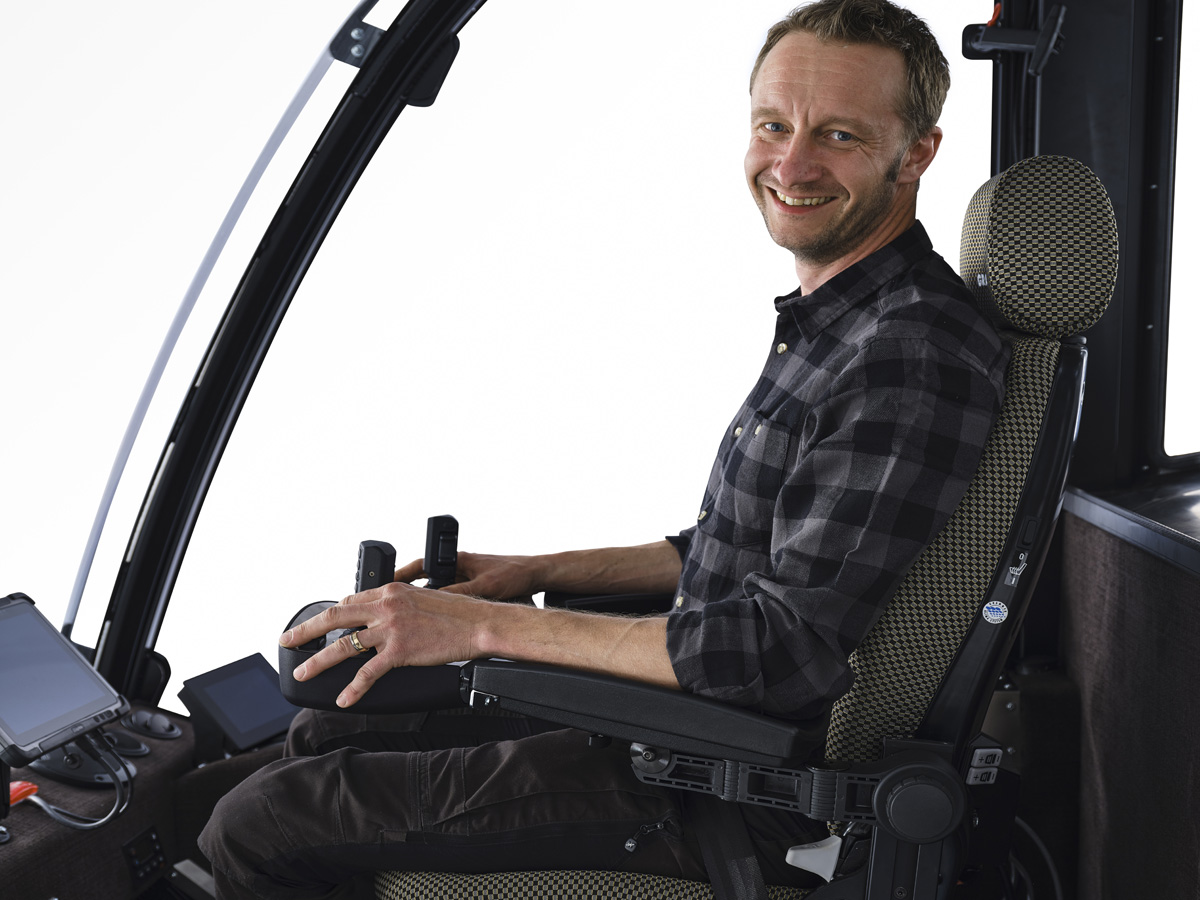 Comfort cab
Large, spacious, and quiet safety cab with extremely good visibility. Rated extremely highly by test operators. You sit like a king, with all controls, displays and functions within easy reach. The EEC climate system provides the desired heating or cooling, evenly distributed throughout the cabin. The comfortable and supportive operator's seat is available with ventilation and damping sideways, left/right. The interior height of the cab is fully 175 cm, there is space for a co-operator and plenty of room for your legs. In addition, the cab features smart and spacious storage areas for your clothes and lunch bag, for example, with heated and refrigerated drawers. USB socket.